What are business mobile forms?
Business mobile forms are digital forms that you can fill out on the mobile devices, such as smartphones or tablets. Any paper form that you are using in your business right now can be converted into a mobile form. Your employees can capture all kind of information in the mobile forms: data, images, signatures, GPS location. Collected data are submitted to the centralized cloud location in real time: no manual work or double entries are required. You have digital records of all collected information, easily searchable and accessible on demand.
Mobile forms for business can be of two types: HTML5 forms that you load and fill out in a mobile web browser, and forms that are a part of a native mobile application. Native mobile application forms are faster, more responsive, can be filled out without internet or cellular connection, and allow for the local data storage so that collected information is not lost. Native mobile application forms have more options, such as capturing images, signatures, GPS location, scanning barcodes, etc.
Mobile forms in QR Mobile Data software are native mobile application forms, available for android and iOS.
How do I create mobile forms for my business with QR Mobile Data software?
You create business mobile forms online via an administrative web dashboard. Here is the process you will follow to create a mobile form in QR Mobile Data software:


Create a mobile form header, where you specify general form parameters (name, submission cycle, for what object groups this form is valid).
Once header is created, start adding mobile form fields. Form fields are (optionally) grouped into categories for clarity and easier completion. Each category is presented as a sub-form in a mobile application.

For each mobile form field specify data type (text, number, date, image, scan), if the field is required or optional, and control type (manual input, dropdown list, checkboxes, radio button). Optionally, you can add clarifying text and / or image, to guide your field employees through the form filling process.
If you need to re-arrange order of the fields in the mobile form, you can do so using up / down arrows.
Once a form is created, your employees can access it in the QR Mobile Data mobile application, fill it out and submit to a centralized cloud database.
How do we collect data in the field using business mobile forms? Can field employees fill out mobile forms offline, without wifi or data connection?
In order to fill out a mobile form, an employee should log into the QR Mobile Data mobile application (available for Android and iOS). Application can be used with or without internet connection for filling out business forms.
After scanning QR code on the relevant object (equipment, facility, infrastructure, or any other object you are collecting data for) field technician gets a mobile form which is relevant to the scanned object. If multiple mobile forms are relevant to the scanned object, an employee can select a correct form from a list.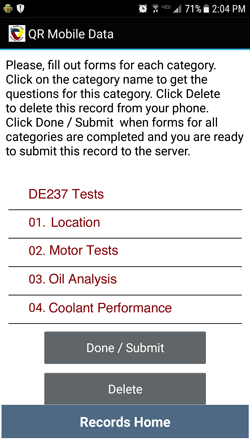 Instead of navigating through a long form on a small smartphone screen, an employee fills out each questions category as a separate sub-form. (S)he can easily navigate between subforms and categories list, and see at a glance which sub-forms are filled out and which ones are not. Filled out sub-forms have a green checkmark next to them.
An employee can fill in data manually, scan in using smartphone camera, select data from a list or checkboxes / radio buttons, as well as take photos for visual documentation.
Collected data are automatically saved on the mobile device, are never misplaced or lost. An employee can stop at any time, and continue filling out a form later from the place where (s)he left off.
Once business mobile form is completed, an employee can optionally collect a signature, create and e-mail pdf document, and submit filled out form to the server. If an employee is in the area that does not have internet or cellular connection, (s)he can submit all completed mobile forms at once when connection becomes available.
How do I attach a business mobile form to an object?
In QR Mobile Data, all mobile forms are linked to a business object. What these objects are depends on your business. You can fill out mobile forms for equipment that your company services, mobile forms for the building inspections, checklists for the property maintenance tasks, forms for the property assessments, projects in progress, trees in the nursery, or forms for employees time and expenses, just to name a few.
When creating a business mobile form, you indicate for which group(s) of objects this form is valid (you will probably have different set of forms for equipment and employees, for example). Before filling out a mobile form on a smartphone, an employee scans QR code on an object to identify it. Completed mobile form is automatically linked to a scanned object.
How do I attach a business mobile form to a workflow?
If you need to track workflow or process, you probably need to collect and record specific information while you go through the workflow steps. Attaching mobile forms to the workflow steps ensures that your employees know what data to collect on each step, and fill out correct mobile form(s).
When you create a workflow step, you can select which business mobile form(s) (if any) should be filled out on this step. You can also indicate which form(s) are optional and which ones are required. An employee won't be able to move an object to the next workflow step until all required mobile forms are filled out.
After scanning an object, and employee will see its current status, what was done and a list of the business mobile forms to fill out on this step. (S)he will then be able to click on each mobile form and fill it out. If a mobile form had been filled out already, there will be an indicator next to it, and an employee will be able to review submitted information.
How do I access records submitted via business mobile forms?
Submitted records are stored in a secure centralized cloud location. As soon as the mobile form is submitted, submitted record is accessible to all authorized employees.
Administrators access submitted records via a web dashboard. They can apply multiple filters to quickly find required digital records. The filters can include dates, object, a specific mobile form, as well as daat that were filled out (e.g. select all records that had failed a certain test in a last month), etc.
Field employees can access recent records for any object by scanning QR code label with a smartphone.
Can an administrator pre-fill a mobile form, or edit a submitted business mobile form online?
Yes, an administrator can pre-fill mobile forms online before pushing them to the mobile devices for completion. Administrator can also edit submitted records, or fill out "office only part" after mobile form is submitted.
If an administrator pre-fills a mobile form for an object, mobile application users will be able to access this partially filled form after scanning an object's QR code and clicking "Records To Be Completed" button. They will be able to view (not edit) pre-filled part of the mobile form, complete the rest of the form and submit it to the server. Once business mobile form is completed, it disappears from the "Records To Be Completed" list on the mobile devices.
If, after reviewing a completed mobile form administrator decides that something needs to be re-visited / corrected in the field, (s)he can mark the record as incomplete and push it back to the mobile devices.
Can an employee send a business mobile form to someone else from a smartphone?
Yes, when business mobile form is completed an employee can collect a signature, and create pdf report on a smartphone. Pdf report can include object information, data collected via mobile form, images and signature. An employee can view pdf, print it (if air printer is available) and / or email it to the specified e-mail addresses from a smartphone.
Look and layout of auto-generated PDF report is defined by you via a custom template.
We need to create PDF documents for the customers / auditors - can we do this?
Yes, you can generate PDF report for any completed mobile form with one click. The report can be created on a smartphone in the field, or later by an administrator via the web dashboard.
PDF report can contain information on the object, mobile form data, image(s) and collected signature.
You define PDF look and layout via custom templates.
If you had changed a template or mobile form data, you can re-create PDF report at any time.