Mobile Forms Design & Layout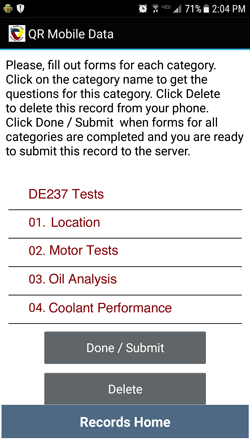 You create mobile forms via the web dashboard. When creating a form, you can:
Specify how often this form should be submitted (e.g. each 30 days for the preventive maintenance form), and create a custom reminder to send you an email alert when next preventive maintenance is due.
Upload a clarifying image for the entire form, as well as optionally separate images for each form field.
Upload a custom template for the PDF document created from the completed records. This template allows you to define looks, layout and contents of the PDF document.
The forms are divided into sections / categories for clarity and easier completion. On the mobile devices, an employee sees a list of sections / categories, and clicks on each category to fill out this section. There is a green check mark indicator next to filled out sections.
After form header is created, you add form fields to each section / category. There are multiple field options described in the next section.
Mobile Forms Fields
When creating a form field, you can specify:
Field data type: text, number, date, image, scan or autoscan.

For the text, number and date fields, a user enters data or selects from the list. QR Mobile Data mobile application verifies that entered data correspond to the specified type.
For image field, a user can take a photo with the mobile device camera, or select a photo from the photo gallery.
For scan field, a user can scan in data using mobile device's camera or attached hand-held barcode scanner.
Autoscan field allows user to scan QR codes for the tasks / stations in the checklists instead of checking them off manually. QR Mobile Data application automatically finds correct task and checks it off.

Is field required or optional. QR Mobile Data application verifies that all required fields are filled out.
Field entry type, that can be:

Manual input, where a user types in data in the field.
Select list, where a user selects a single value from a pre-determined list.
Radio buttons, where a user checks off a radio button so select a single value.
Checkboxes, where a user can check off checkboxes to select multiple values.

Add clarifying text and / pr upload a clarifying image, to show what needs to be checked / put in this field.
Mobile Forms: Repeatable Sections
Often some sections of the mobile form need to be repeated several times, and you cannot tell beforehand how many repetitions will be needed. A typical example of this is an invoice or receipt, that may include variable number of line items. There are many other situations when specific chunks of information need to be added to the form dynamically based on the situation.
For example, when performing an inspection a field technician may need to list all found problems, including problem type, description and an image that illustrates it. There may be no problems, or there may be several, so a technician needs an ability to add problem sections to the form dynamically as needed. On the equipment service / repair form an employee may need an option to record all parts that were used, dynamically adding a line for each used part. This list goes on and on...
QR Mobile Data allows you to add such repeatable sections to the forms, and specify minimum number of sections that should be filled out. Minimum number of sections (if any) are automatically included on the form. An employee in the field can dynamically add more sections / lines as needed, and fill them out. Repeatable section can include all types of fields: manual input, selection, checkboxes, radio buttons, scan in fields, images, etc.
Mobile Forms: Filling Out Forms On The Mobile Devices
In order to fill out forms in the field or on the shop floor, an employee should log into the QR Mobile Data mobile application (available for Android and iOS). Application can be used with or without internet connection for filling out business forms.
After scanning a business object an employee gets a list of the relevant forms and selects the one (s)he needs to fill out.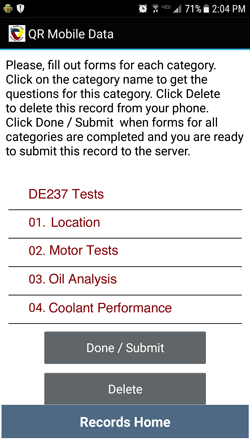 Instead of navigating through a long form on a small smartphone screen, an employee fills out each questions category as a separate sub-form. (S)he can easily navigate between subforms and categories list, and see at a glance which sub-forms are filled out and which ones are not. Filled out sub-forms have a green checkmark next to them.
An employee can fill in data manually, scan in using smartphone camera, select data from a list or checkboxes / radio buttons, as well as take photos for visual documentation.
Collected data are automatically saved on the mobile device, are never misplaced or lost. An employee can stop at any time, and continue filling out a form later from the place where he left off.
Once the form is completed, an employee can optionally collect a signature, create and e-mail pdf document, and submit filled out form to the server. If an employee is in the area that does not have internet or cellular connection, (s)he can submit all completed forms at once when connection becomes available.
Mobile Forms: Office - Field Communications
An administrator can start filling out a form via the web interface, and push partially filled out form to the mobile devices for completion.
Field employees will see a list of forms that need completion on their mobile devices. When an employee completes the form and submits it to the server, the form disappears from the mobile devices list.
An administrator can review submitted form via the web dashboard in real time. (S)he can optionally make changes to the form, or fill office -only part. If an administrator found any problems or missing information, (s)he can push the form back to the mobile devices for corrections.
This cycle can continue until form is done.
Completed Mobile Forms: Digital Records & PDF Documents
After mobile form is complited, it is stored as a digital record in a centralized cloud location. Administrators can access these records on demand via the web dashboard. They can search records by multiple parameters to find what they need fast.
Both field employees and administrators can create PDF document for the completed report.
Field or shop fllor employees can create PDF document on the mobile device right after the form is completed. They can view PDF, print and e-mail to the list of recipients.
Administrators can create / re-create PDF via the admin web interface.
You define PDF looks, layout and what is included via custom template. PDF can include your branding, object information, collected data, images and signature.